The Magic of a Dining Table Rug: Transforming Meals into Memories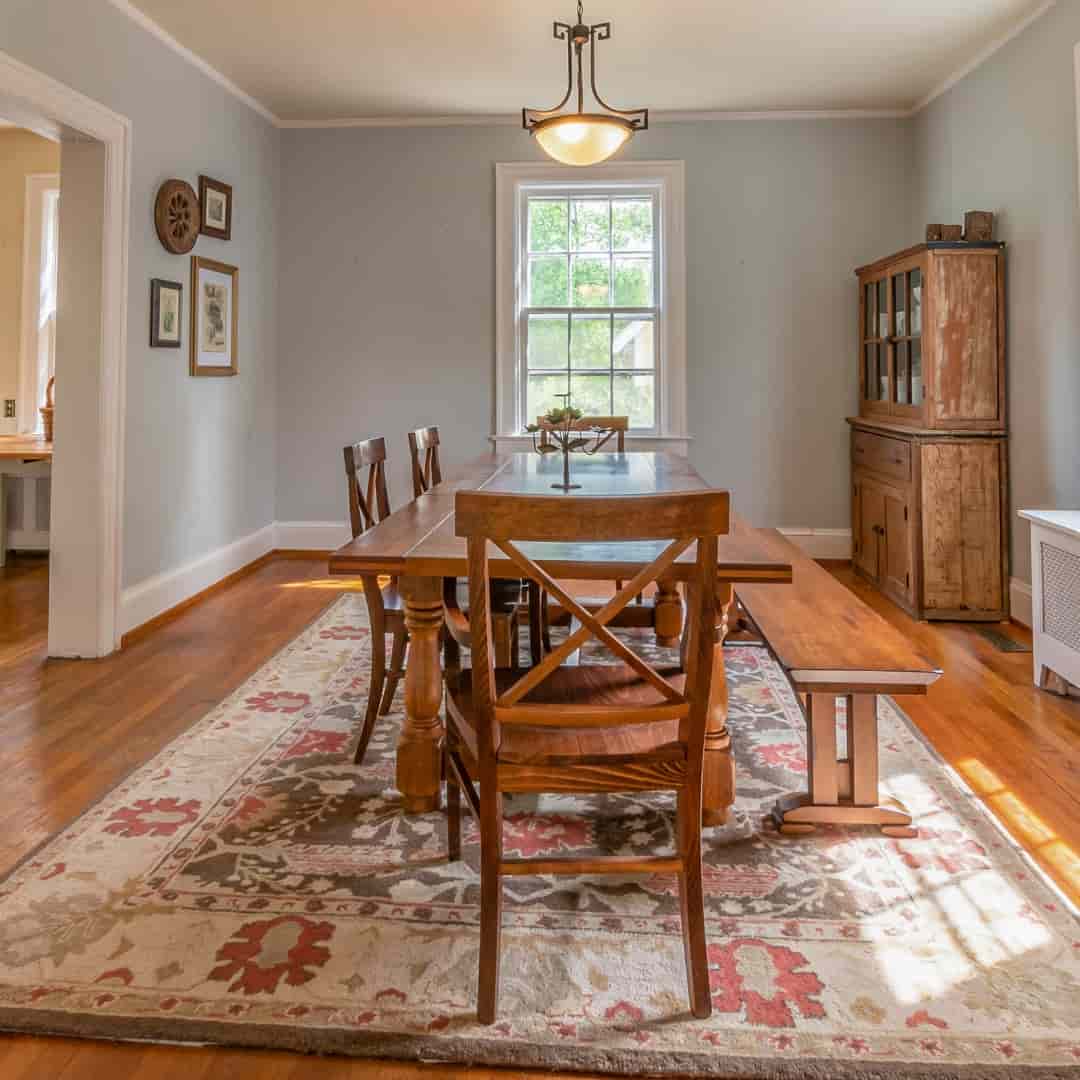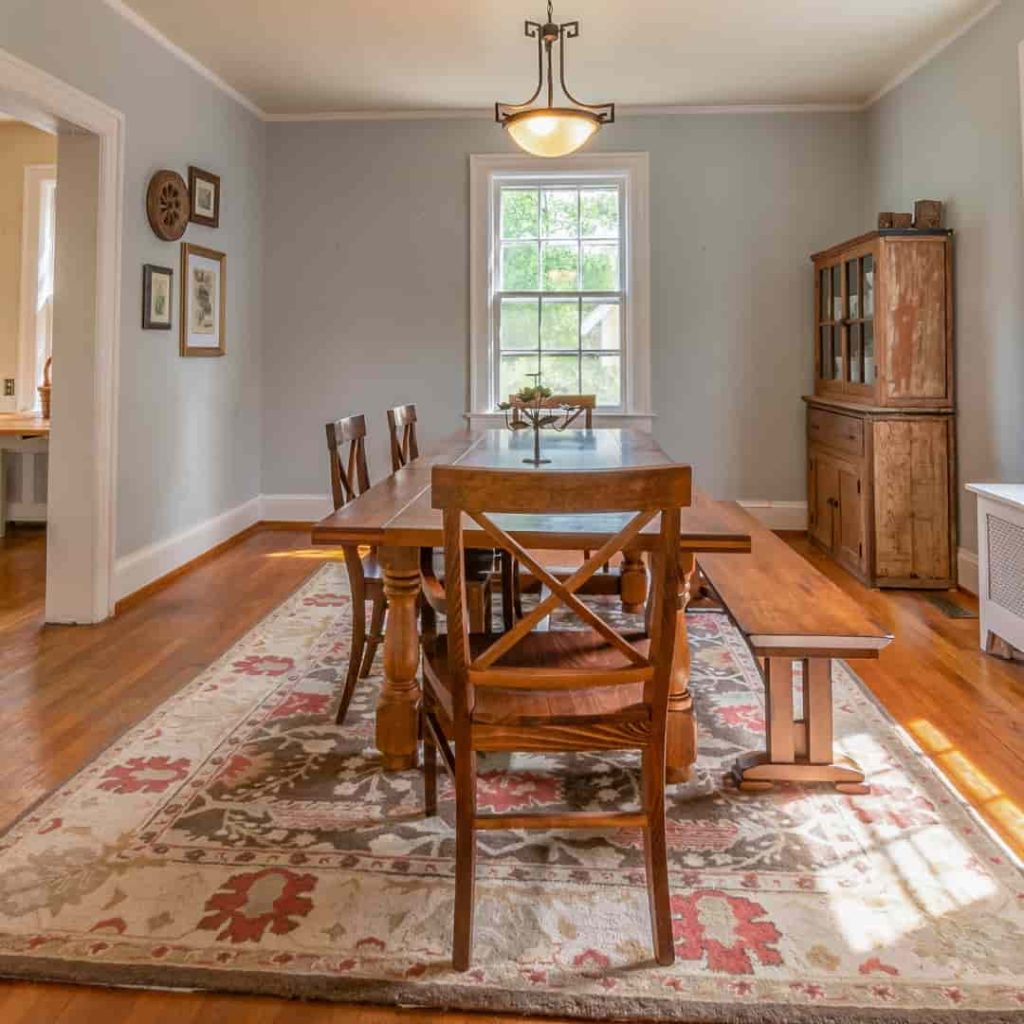 Finding a dining table rug for your home that is practical as well as elegant isn't an easy feat. A floppy pile will forever trap every crumb that falls off the table. A small dining table rug can be a cause of slipping chairs.
However, a well-made rug can add texture, colour, warmth, and elegance to your dining room table rug and make the search worthwhile. Here are ten helpful tips for selecting the right rug for your dream room:
TIP #1 – BETTER TO BE ON THE SIDE OF BEING TOO BIG
The dining room rug must have at least 24 inches of additional space across the dining table to give guests enough room to take out chairs without falling over the rug. An even wider border is ideal. To ensure you're receiving the right sizes rug, take measurements of your table, add at least 24 inches on both sides, and mark the space right on the ground using painter's tape. If the areas marked are nicely inside the other furniture for dining rooms (buffet or bar cart, etc.), think about sizing it up.
TIP #2 – CHOOSE A FLAT WEAVE (OR SHORT PILE) DINING TABLE RUG
Since spills are inevitable and the ease of moving a chair back is crucial, flat-weave or low-pile carpets are the best options in your dining room. Kilim, Moroccan carpets and other thick and fluffy carpets in the living area will require less maintenance and cleaning.
⫸ Click here to shop cute rugs
TIP #3 – USE THE DINING TABLE RUG AS A STARTING POINT FOR YOUR DECORATION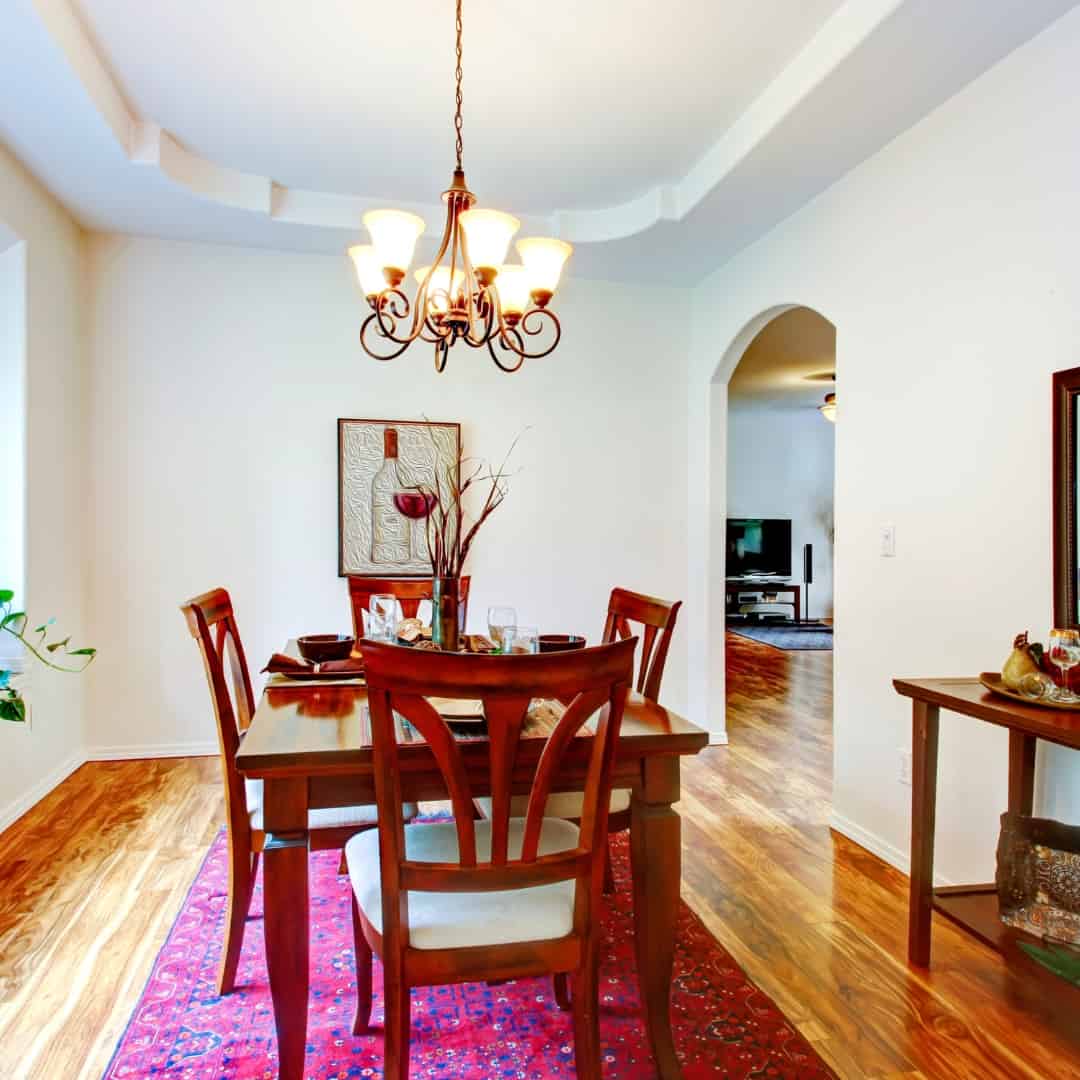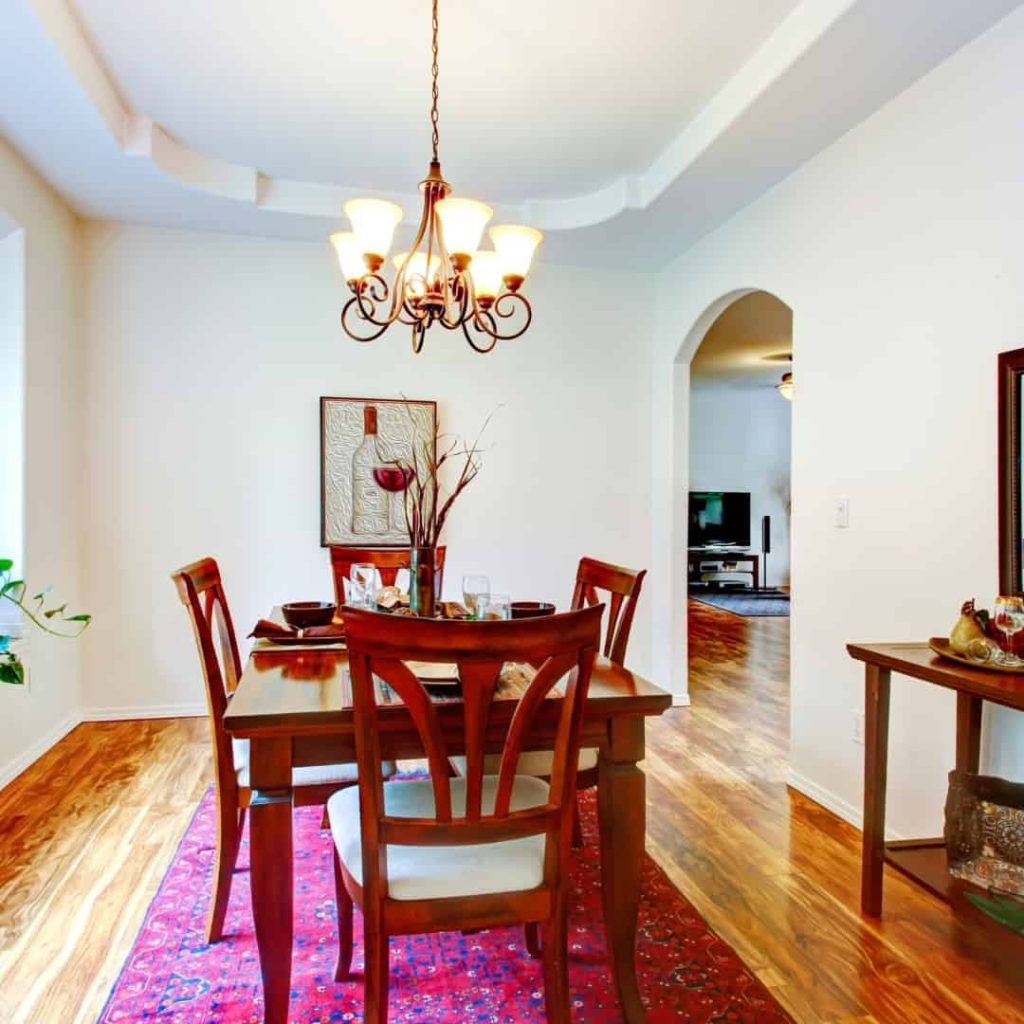 Rugs are among those first things you buy for your dining area, so you or your interior designer can use them to set the tone of the space and create an overall colour scheme. Choose the lightest or background colour of the rug to be used as a wall colour, and add a more vital shade from the carpet to accent the space on the cushions of chairs or artwork. Another thing to consider is the colour of your dining table and chairs. If you have a dark wood table, you might want to choose a rug with lighter colours to contrast the table. You can choose a darker-coloured rug with a light wood dining table. You also want to think about the other colours in the room. If it's a formal dining room, you might want to choose a carpet with a more traditional colour scheme. If it's a casual dining room, you can have a little more fun with the colour of your rug. You might want to choose a brighter colour or a patterned rug.
TIP #4 – CHOOSE MATERIALS WITH EASY-CLEANING PROPERTIES
Natural fibres like cotton or wool are easy to wash at home, while synthetic mixes are most challenging. The exception is indoor-outdoor and stain-resistant carpets that stand up to scratches. Rugs are a great way to add comfort and style to your dining room, but they can be tricky to keep clean. If you have a busy household, you'll want to choose a dining table rug material that is easy to clean and won't show dirt and stains easily.
⫸ Click here to shop colorful rugs
TIP #5 – BE CAREFUL, NATURAL FIBRES ARE NOT ALL THE SAME
There are a few different options for choosing the suitable material for your dining table rug. You can choose a natural fibre like wool or cotton or opt for a synthetic fibre like polyester or nylon. Each material has its benefits and drawbacks, so you'll want to choose the one that is right for your needs. Wool and cotton are natural fibres that are durable and easy to clean. They are both absorbent materials so they can be stained easily. On the other hand, with a reasonable price, a great texture, and a classic appearance, natural fiber rugs such as Berber rugs, as sisal, jute and sea grass are an excellent choices for these rugs. The main issue is in the rug's texture. The finer and smoother it is, the easier it is to clean. However, it isn't easy to get rid of the food particles that have been ingrained into natural fibre rugs.
TIP #6 – MIX RUG SHAPE WITH DINING ROOM SHAPE
Have a square dining room? Consider a round or square dining table rug. Rectangular room? Use a rectangular dining table rug. The room's design with your rug will give a pleasant feeling of order to the room.
TIP #7 – MIX THE RUG SHAPE AND DINING TABLE SHAPE
A round table looks stunning with a square or round rug. Oval and rectangular dining tables look great with a rectangular rug. Tables with square legs generally work best with square rugs. However, round rugs could be used for a more playful look.
TIP #8 – AVOID LIGHT HUES
If your dining room is more for office space than for hosting dinner events, it's better to stay clear of white and light-coloured carpets in this area (as stunning as they appear). If you often entertain in your dining room, it's best to steer clear of light-coloured area rugs. A light or pale palette will show spills and dirt more quickly than a richer, more profound or vibrant colour.
TIP #9 – TRY CARPET TILES
The interlocking carpet squares can be arranged in any size or shape and are available in various patterns, colours, and patterns. What makes them a good option for your dining room? If a stain is set into the shape of a square, it is possible to easily replace it without having to purchase a new rug.
TIP #10 – SEE THE BIGGER SPACE
If you are deciding on a design and colour for your dining table rug, take a look at it as a part of the larger picture of your living space. What is the colour of your dining tables and chairs, lighting fixtures, flooring, and wall colours? If your home has an open-plan floor, What other rugs do you have employed in your space? The rug you choose will be a natural fit with the other pieces. Browsing this website Marrakech Rug, we offer free shipping worldwide. Enjoy the beauty of a Moroccan rug!
Real-Life Example: Sarah's Story
Let me tell you about Sarah, a friend who recently moved into a new home. She had everything set up but felt something was missing in her dining room. On a whim, she decided to add a dining table rug. She chose a beautiful, handwoven rug with intricate patterns and vibrant colours. The moment she laid it down, the room transformed. It felt warmer, more inviting, and suddenly, the dining table became the heart of the home. Now, she swears by the power of a good rug and can't imagine her dining room without one.
Choosing the Right Rug:
So, you're convinced. You need a dining table rug.
Size Matters: Make sure the rug is large enough to accommodate all chairs when they're pulled out. You don't want the front legs on the rug and the back legs off it.
Material World: Choose a material that's easy to clean. Dining rooms are spill zones, so opt for something like polypropylene or a flat-weave rug that you can easily wipe down.
Style Sense: Consider the existing decor. If your dining room is modern, go for a rug with clean lines. If it's more traditional, an oriental rug could be a perfect fit.
In conclusion, picking out the perfect dining table rug can seem daunting, but it doesn't have to be. Just keep these tips in mind, and you'll be sure to find the perfect dining table rug for your space.